AGROK WON BEST BAIT AWARD IN CHINA FISH INTERNATIONAL EXHIBITION
Certificate Introduction
♦Animal Health Certificate
♦Veterinary Certificate
♦FDA Certificate
♦Irradiation Certificate
Living Lugworm
1.
Name
Lug Worm
Clam Worm
Sand Worm
2.
Usage
Fishing Bait
Shrimp Seed Food
Fish Food
3.
Color
Red
Green
4.
Status
Alive
5.
Size
15cm/pc-20cm/pc
6.
Weight
2g/pc-4g/pc
7.
Suitable Temperature

7℃-12℃

8.
Shipping
By Air
9.
Package

Small Foam Insulation Boxes

30g,40g,50g per box

Economy Foam Insulation Box

10kgs per box
Dry Lugworm & Tubeworm
1.
Name
Dry Lug Worm
Dry Tubeworm
Dry Sandworm
2.
Usage
Fishing Bait
Shrimp Seed Food
Fish Food
3.
Color
Red
Green
4.
Status
Dehydrated
5.
Quantity
12pcs-17pcs,accoring to the size
6.
Weight
5g/bag-7g/bag
7.
Suitable Temperature
Room temperature,no frozen requirements
8.
Shipping
By Air/Express
9.
Package

Poly Bag

Master Carton Box

10.

Usage method
Soaking for 30min-45min before using
Salted Lugworm & Bloodworm
1.
Name
Salted Lug Worm
Salted Tubeworm
Salted Bloodworm
2.
Usage
Fishing Bait
Shrimp Seed Food
Fish Food
3.
Color
Red
Green
4.
Status
Salted
5.
Quantity
12pcs-17pcs,accoring to the size
6.
Weight
35g/bag
7.
Suitable Temperature
In frozen temperature-12years
8.
Shipping
By Air/Express
9.
Package

Poly Bag

Master Carton Box

10.
Usage Method
Soaking for 3min -5min
♦ 1. Versatile angle bait in sea fishing
♦ 2. It almost can lure all kinds of fishes in sea as angle bait, because lugworm is the food that all kinds of fishes like
♦ 3. It can be seen obviously in sea due to its phosphorescent body. Clingy to fishhook, with strong seafood smell, thick and tough body, and of simple operation, fishes prefer to peck, angling effectively
♦ 4. The swing of its body and the strong fishy smell from the released internal juices, can attract more fishes efficiently in sea.
♦ 5. Farmed lugworm is much better than the wild in shoal land for its vitality.
♦ 6. Red lugworm is slightly thick tough enough and weighty, easy to lure but not to rot --most suitable for fishing.
♦ 7. Readily attract a wide range of species to include bass, plaice, DAB, sole, flounder, black sea bream, barracuda, damselfish, snakehead, coalfish, pollack, whiting, gurnard, wrasse, ect. And smooth hound.




♦ 8. Cyan ones are so soft that fishes like to eat, but easy to rot within minutes in sea.
♦ 9. The nutrition of lugworm is rich in protein (protein content more than 68%), amino acid and eicosapentaenoic acid -superb living natural bait for artificially breeding fish, prawn, and crab, called high efficient catalyst to maturate prawn and crab
Packaging & Shipping
Living Lugworm Package Information
1.

Small Foam Insulation Boxes

20g
30g
40g
50g
2.
Economy Foam Insulation Boxes
10kg
Note:

Send extra 2 kilos for each carton will be sent to you for avoiding losses

Dry Bait Package Information

3.

Poly bag:5g net weight

Salted

Worm Package Information

4.
Poly bag:35g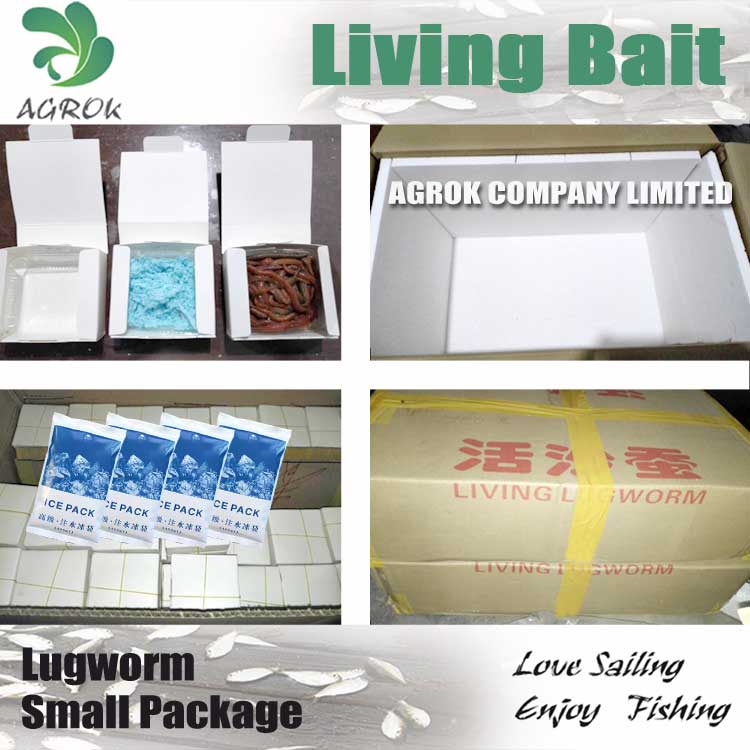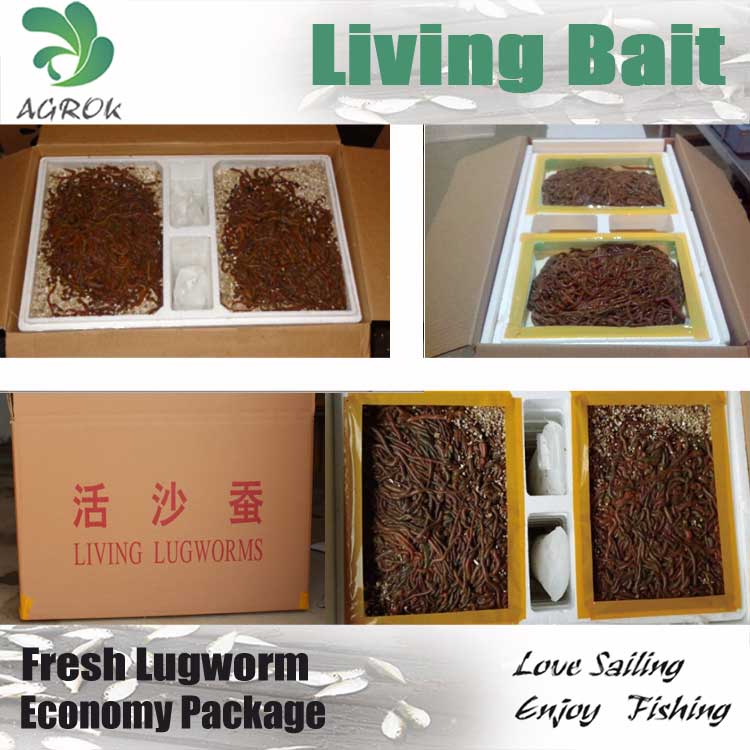 Our Services
♦All goods shipping by air.
♦In the wild, lugworms breed once during the spring and then die. We have developed and patented techniques to extend the breeding season of the lugworm, establishing a stock of worms which breed throughout the year. After assessment for maturity, the eggs are fertilised in our laboratory and grown to the post-larval stage in the hatchery, before being stocked out in juvenile beds on the farm.
Because production and harvesting are not affected by tide, weather or season, our lugworms are consistently available at optimum size and quality, all year round.
♦In the month of July,August and September,we send to all the world large quantity of lugworm everyday.
Living lugworm is a special kind of animal, in the environment of less than 10 degrees Celsius,it can survive 5-8 days.So the transport is very very important,any delay on the road can lead to death. When we cooperate the first time,we suggest that our dear customer buy some samples to check the quality and deal with any problems to avoid losses.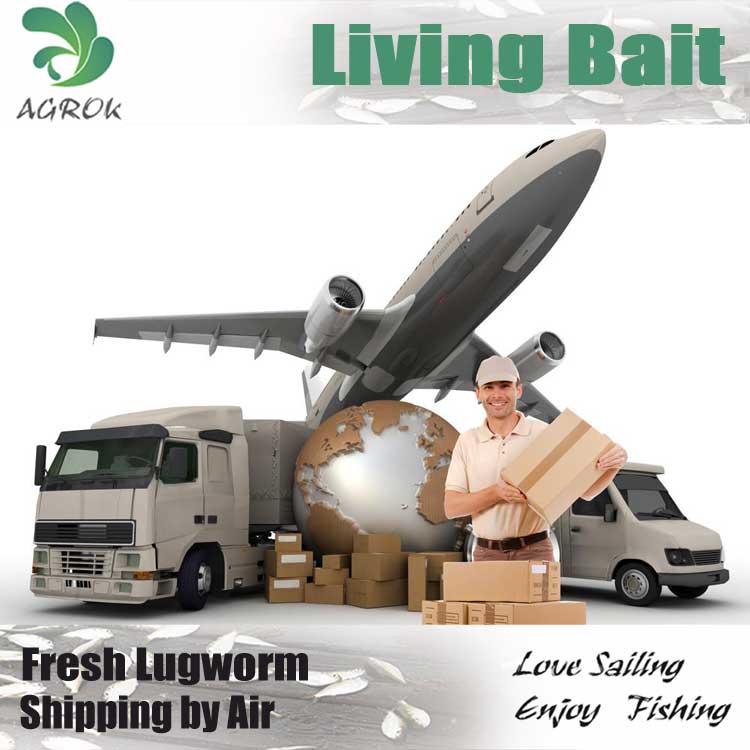 Company Information
♦Traditional methods of bait supply by digging worms from the intertidal areas have always been fraught with problems. Relatively few areas exist where marine worms can be collected economically, sustainably or without causing damage to the environment.
♦As we know, in China wild lugworm is becoming less and less because of human's hunting,so the fixed supply of lugworm is not available. Our company has invested tens of millions on the farming technology,and now we succeed farming it all year round. We have a base of more than 2000 cares and can offer large quantity of it for all the customers in the world.
♦Currently, our company has a total annual output of 100 tons of Lugworm, which are mainly exported to Japan, Korea, Western Europe, Taiwan and other countries and regions. Because of the quarantine and ecological security reasons, the United States banned the entry of live lugworm,So we are sorry that we can't supply our product to the United States.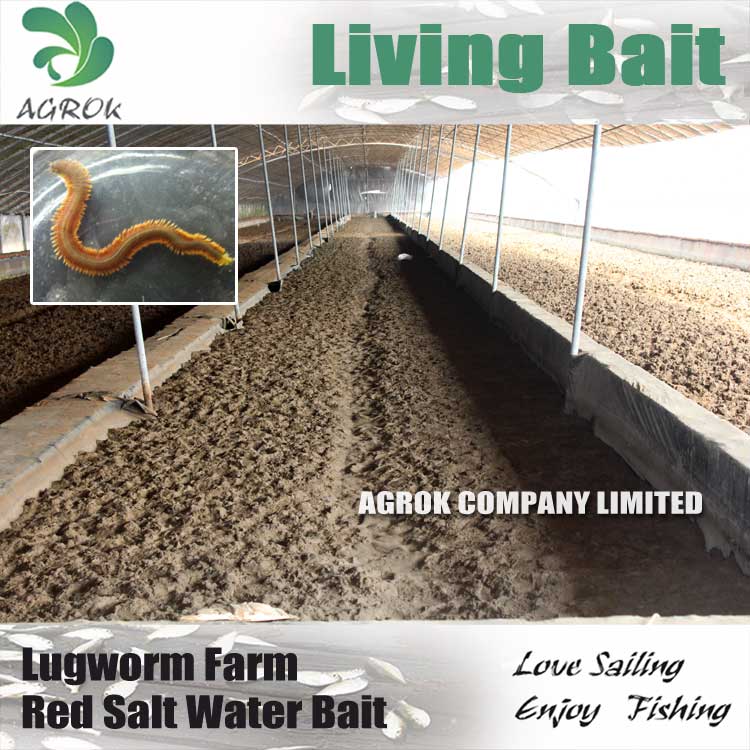 Assured quality, reliability and optimum size - all year round.
♦Seabait ragworms are reared under controlled conditions, giving an assurance of quality that is impossible from wild grown worms.
♦They are fed daily with a specially produced, biosecure feed. They grow in water which is monitored for temperature, oxygen content and other essential parameters.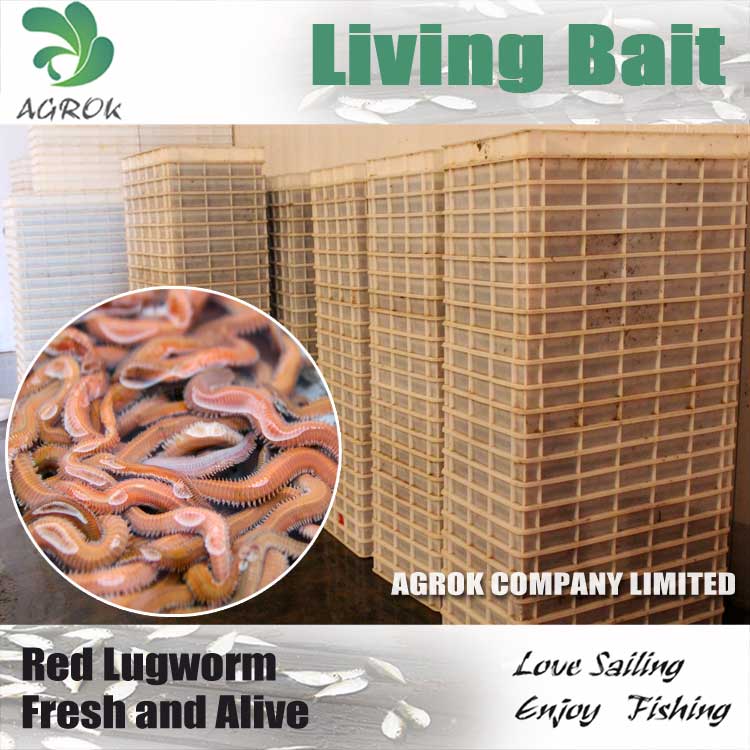 ♦We are committed to giving our customers a consistently reliable service. We are always pleased to listen to your comments and suggestions and are available to give friendly advice at all times.
♦In order to bring our products into the market,and develop a comprehensive service system,the broad masses of agents home and abroad are wanted.
♦We boast an excellent and highly responsible sales team,which would provide high-quality services for buyes all around the world.Just because ofthis,we have gianed a global sales network reaching many countries such as Korea ,Janpan,Spain,Italy,Greece,etc
♦Amazing sales price and service will be privileged to our agent.
♦We are looking forward to your visit and have a successful cooperation.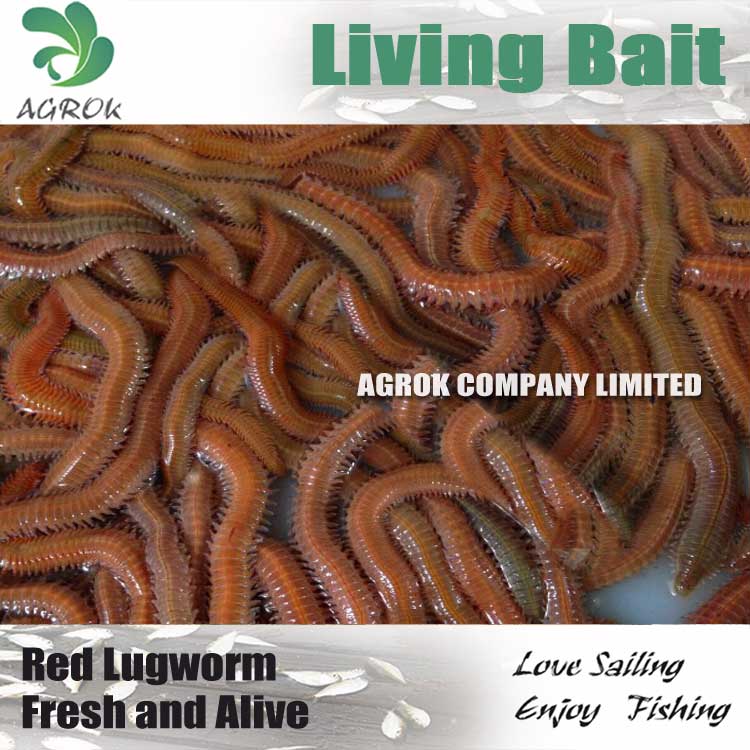 FAQ
1. Q:How long the lugworm can live ?
A:Our lugworm can live for 7-10 days after sending under good condition.
2. Q:How long does it to tacke the deliver of the living lugworm?
A: Usually,we dispatch the goods today,and then you will receive the goods tomorrow,less than 24 hours.
3 Q:What kind of worm do you have?
A:Currently,we have living lugworn(Koreano) and bloodworm(Americano).